Program Grand Chapitre 2021 i Uppsala
Nu är det äntligen dags för Chaîne des Rôtisseurs årliga Grand Chapitre. Nu, så här i pandemitider, kanske mer efterlängtat än någonsin. Under ett antal dagar i slutet av augusti kommer vi att undfägnas fantastisk mat och dryck i regi av våra duktiga proffs och deras kollegor. Vårt program presenteras i korthet nedan. För mer utförlig information klicka på respektive dag i menyn till vänster. Anmälan görs på sidan märkt "Registrering".

Välkomna till ett sensommarvackert Uppsala med omnejd!

Chaîne des Rôtisseurs Sweden´s Grand Chapitre 2021 in Uppsala

In August it´s time for our Grand Chapitre of 2021 in Uppsala, Bailliage Uppland. The venue for the festivities is Uppsala and the time in the end of the summer. We welcome you to some days with great food and wine on the theme Swedish Harvest Time. A short recap of the program can be found down below. For more information please klick on the different days in the menu to the left. to register visit the "Registrering" page.

Welcome to a beautiful late summer Uppsala!


FREDAG 27 AUGUSTI

Fredag kväll roar vi oss med ett antal middagar av olika karaktär och tema. Alla hos våra egna proffsmedlemmar i Uppsala. Valet beror helt på tycke och smak. Hänge er åt en fantastisk middag på Uppsalas fiskrestaurang nummer ett - Hambergs, en riktig måltidsupplevelse på en av Nordens bästa restauranger - Villa Anna eller en middag med fokus på kött av toppkvalitet - PepparPeppar. Svårt val. Om det gick skulle man gärna vara med på alla...

FRIDAY 27TH OF AUGUST

Friday evening is allocated to three of the Bailliage´s top restaurants. A very difficult indeed, to choose which one of the three venues to dine. They are Hambergs - Uppsala´s number one fish restaurant, Villa Anna - one of the the top restaurants in the Nordic countries or a dinner with a focus on excellent Swedish meat - at PepparPeppar. Sadly it is not possible (yet) to clone yourself and attend all dinners...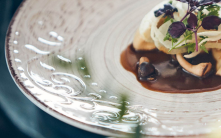 På Uppsalas fiskrestaurang med stort F - Hambergs - är kanske inte menyn en större överraskning - fantastisk fisk och skaldjur med tillhörande drycker.

At Uppsala´s fish restaurant with a big F - Hambergs - the menu is not a surprise, excellent fish and seafood combined woith top class wines.
DINÉR AMICAL på VILLA ANNA
Villa Annas kök är oerhört professionellt och skickligt med ett fint renommé som en av Nordens bästa restauranger. En middagsupplevelse på Villa Anna är alltid värt en resa.

The kitchen at Villa Anna is well known for it´s fantastic cuisine. A true dinner experience well worth a visit during the Grand Chapitre.
DINÉR AMICAL på peppar peppar
En mycket populär restaurang i Uppsala är Peppar Peppar. Välkänd för sin vällagade mat bjuder kvällen på en spännande middag med fokus på kött. Peppar Peppar ligger också granne med vårt rekommenderade hotell.

A visit to Peppar Peppar is highly recommenable. This evening is dedicated to primarily meat of course also well accompanied with excellent wines.

utflykter x 3 - Tours x 3

Tur 1 / Tour 1 - NORDUPPLAND LÖVSTA BRUK & LUNCH PÅ FORSMARKS VÄRDSHUS / NORTHERN UPPLAND LÖVSTA BRUK & LUNCH AT THE FORSMARK`S INN

Åk med på en utflykt i det norduppländska landskapet till herrgården Lövsta Bruk med guidning om brukets historia. Efter det går turen vidare till ännu ett bruk, Forsmarks Bruk, där vi äter lunch i Värdshuset innan det åter är dags att styra mot Uppsala.

Take a tour in the landscape of Northern Uppland and visit the Lövsta Bruk manor. After a guided tour about the manor house and the iron works the tour contioues to Forsmarks Bruk and their Inn, Forsmarks Värdshus, for a lunch. After the meal it is time to get back to Uppsala.

Tur 2 / Tour 2 - VINPROVNING LÄNNA BRUK / WINE TESTING AT LÄNNA BRUK

Med museijärnvägen Lennakatten tar vi oss till Länna Bruk där Upplands egen vinproducent finns. Vinprovning och lunch står på programmet innan vi tar oss åter till Uppsala.

Using the historical railway Lennakatten the tour goes to Länna Bruk where Uppland´s own wine producer is located. A wine testing and lunch is on the programme before returning to Uppsala.

Tur 3 / Tour 3 - GUIDNING UPPSALA / A GUIDED TOUR BY FOOT IN UPPSALA

Ledda av en guide besöker vi på universitetsbiblioteket Carolina Rediviva och Vasaborgen Uppsala Slott. Efter turen avslutar vi med en lunch på Brasseri 21 som drivs av vår medlem Lotta Triller.

A guided tour by foot in Uppsala. On the programme a visit to the University Library Carolina Redeviva and the Uppsala Castle. After the exercise we end the tour woth a lunch at Brasseri 21 hosted by our professional member Lotta Triller.


Observera att vi reserverar oss för eventuella ändringar på grund av gällande restriktioner eller andra förhållanden som kan påverka utflykter och program.

Please note the programme might change due to possible restrictions or other circumstances.

intronisationsceremoni / induction ceremony
Indubbningsceremoni i Vasasalen på Uppsala Slott. Nya medlemmar dubbas in och andra befodras välförtjänt. Håller i svärdet gör Thore Sande, Bailli Délégué i Norge och medlem i Conseil Magistral. Indubbning till Mondialen / OMGD äger också rum.

The evening starts with the Inducting Ceremony taking place in the Vasasalen at Uppsala Castle. New members are inducted and other promoted. Members will also be inducted to the Ordre Mondial / OMGD. Master of Ceremony will be Thore Sande, Bailli Délégué of Norway and Member of Conseil Magistral.
grand dîner botaninska trädgården / grand Dîner in the botanical gardens
Jubileets högtidsmiddag går av stapeln i Orangeriet Botaniska Trädgården, eller Botan som den också kallas. I rodret håller Maître Kajsa Johansson. En fantastisk kväll utlovas.

Our Grand Dîner will be held in the Orangerie at the Botanical Gardens, or Botan as it is usually called. Menu by Maître Rôtisseur Kajsa Johansson. An outstanding evening is to be expected.


medlemsmöte chaîne sverige på ELIte hotel academia

Söndagen inleds i sedvanlig ordning med ett medlemsmöte för alla medlemmar. Information ges om det senaste i Chaîne, saker på gång i Sverige och internationellt, vår organisation mm. Givetvis är det nyttig information för alla medlemmar men särskilt för de som är nya. Mötet äger rum på vårt hotell för helgen - Elite Hotel Academia.

Sunday morning starts woith a meeting for the members of Chaîne Sweden. The meeting will be in Swedish only hence non Swedish speaking visitors can take a walk in Uppsala, perhaps visit the Cathedral, or just calmly sleep another hour or two...

lunch på elite hotel academia / lunch at elite hotel academia


Vårt Grand Chapitre avslutas med en lunch på Elite Hotel Academia. Dags att säga hej då till alla nya och gamla vänner i Chaîne. Efter flera dagars Fine Dining landar vi en klassisk svensk husmanslunch innan vi alla åker hemåt.

Our last meal is a lunch at the Elite Hotel Academia. Time to say good bye to all new and old Chaîne friends while we finish our Grand Chapitre with a lunch of a somewhat more rustiqe character - a Swedish "Husman".