Program 60-årsjubileum 2019
Nu är det så äntligen dags för Chaîne des Rôtisseurs Sveriges stora 60-årsjubileum. Under ett antal dagar i slutet av augusti kommer vi att undfägnas fantastisk mat och dryck i regi av våra duktiga proffs och deras kollegor. Vårt program presenteras i korthet nedan. För mer utförlig information klicka på respektive dag i menyn till vänster. Anmälan görs på sidan märkt "Registrering".

Välkomna till ett sensommarvackert Stockholm !

Chaîne des Rôtisseurs Sweden´s 60th Anniversary

At last it´s time for our 60th Anniversary. Time flies !!! The venue for the festivities is Stockholm and the time in the end of the summer. We welcome you to some days with great food and wine on the theme Swedish Harvest Time. A short recap of the program can be found down below. For more information please klick on the different days in the menu to the left. to register visit the "Registrering" page.

Welcome to a beautiful summer Stockholm !


TORSDAG 29 AUGUSTI

Vårt kapitel inleds med en välkomstmiddag på nyöppnade Restaurang Nationalmuseum. Maître Rôtisseur Fredrik Eriksson med kollegor står för menyn på temat nyskördat.

THURSDAY 29 AUGUST

Our get together dinner is held on the newly opened Restaurang Nationalmuseum. Our theme for the evening is "Harvest time" and Maître Rôtisseur Fredrik Eriksson makes sure we are more than well taken care of.


Fredagen börjar med ett antal luncher av olika karaktär och tema. Vi har valt att fokusera på den allmänt trivsamma faktorn "kvalitet före kvantitet". Det gör att antalet deltagare per lunch är tämligen litet men urvalet och såväl kvalitet som standard betydligt högre. Här finns något för de flesta med en bra spridning på såväl mat, dryck som kultur. Här finns allt från sjökatastrof modell regalskeppet Vasa, ABBA, Stockholmshistoria, Bellman till japanskinspirerat på Yasuragi och en lunch i Nobels anda på Stadshuskällaren...

FRIDAY 30 AUGUST

The lunches this day are dedicated to a wide variety of Swedish as well as Stockholm themes and characters. Everything from Naval disasters, ABBA, Stockholm history via Japan to a lunch in the Nobel spirit. Here you will truly find something for everyone...


VÅRA LUNCHER / OUR LUNCHES...

En katastrof som slutade i Sveriges mest besökta museum. Vi börjar med en guidning på Vasamuséet följt av en lunch på den lovprisade Restaurang Spritmueum.

A Naval catastrohpy resulting in the most visitited museum in Sweden. Starting with a guided tour of the Vasa Museum we end tour with a lunch at the Restaurant Spritmuseum (Museum of Spirits)

Börja dagen med att på egen hand strosa genom det svenska musikundret för att sluta dagen på stjärnmärkta Oaxen Slip.

Start the day with an exposé of ABBA and disco music. Lunch at the rewarded Oaxen Slip located in a small ship yard.
Här får vi en guidning om vinets väg från kaj till krog allt från att det lossats vid Skeppsbron. Lunchen äter vi på legendariska Den Gyldene Freden öppen allt sedan 1722.

We start this lunch with a guided tour of the wines arrival to Stockholm in the 18th century and it´s way to the restaurants. Our lunch is served at the Den Gyldene Freden restaurant, operating since 1722...

Stockholm och Nobel går ju som hand i hand. Själva högtidligheterna kommer ju något senare under året men varför begränsa sig ? Efter en rundtur på Stadshuset ges bland annat tillfälle att bekanta sig med huvudrätten i 1959 års Nobelmeny.

A visit to Stockholm without mentioning Nobel is of course not possible. After a small tour of the Stockholm City Hall a part of the Nobel Menu from 1959 will be presented for lunch...
Stockholm utan Bellman är svårt att tänka sig. Var hittar man mer om Bellman än hos ordenssällskapet Par Bricole och deras ordenshus på Urvädersgränd. Underhållning och lunch står på programmet för denna lunch.

Visiting Stockholm without mentioning the 18th century poet Carl-Michael Bellman is most probably not possible. A visit to the Order of Par Bricole and the Bellman House includes both entertainment as well as a great lunch.
Den japanskt inspirerade Yasuragi bjuder på en jubileumslunch i den nyöppnade vegetariska restaurangen Saiokushu. I samband med lunchen genomför vi också en liten sakeprovning.

Yasuragi Hasseludden invites us to a Japanese styled 60th Anniversary lunch in their newly opened vegetarian restaurant Saiokushu. A small Sake testing is also on the menu.
DINÉR AMICAL på Operaterassen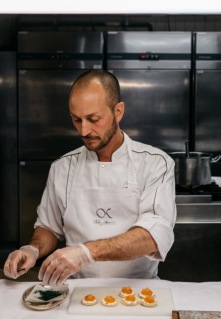 På den legendariska Operaterassen står Maître Rôtisseur Stefano Catenacci för de gastronomiska höjderna. En klassisk meny a la Operakällaren utlovas förutom förstås en strålande utsikt över Stockholms Slott och Strömmen.

At the the Operaterassen located in the Royal Opera House Maître Rôtisseur Steafno Catenacci is in charge of the gastronomy. A classic Operakällaren menu is to be expected and everything with the panoramic view of the Royal Palace and the very center of Stockholm.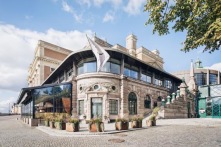 OMGD-middag på restaurang djuret i gamla stan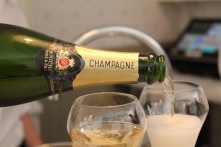 Grand Chapitrets höjdpunkt på dryckesfronten är den särskilda OMGD-middagen på Restraurang Djuret. I regi av Maître Rôtisseur Daniel Crespi bjuds vi på en middag med fokus på drycker. Temat för kvällen är "Havet, under ytan..."

The OMGD Event of the Grand Chapitre is a dinner at Restaurant Djuret in the Old City. Maître Rôtisseur Daniel Crespi leads us through the dinner on the theme "The Sea, under the surface..."

intronisationsceremoni / induction ceremony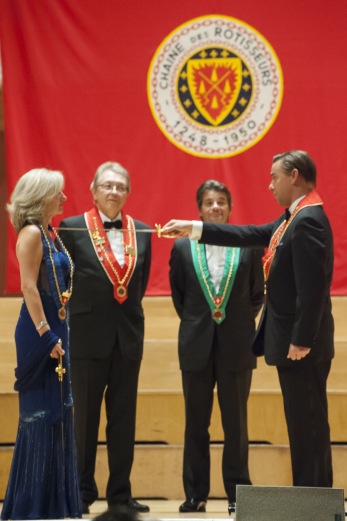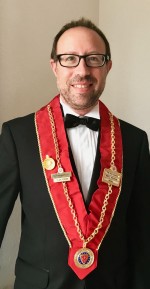 Indubbningsceremoni i Odd Fellows Ordenshus i centrala Stockholm. Nya medlemmar dubbas in och andra befodras välförtjänt. Håller i svärdet gör Tal Gal-Cohen, före detta Bailli Délégué i Israel och medlem i Conseil Magistral. Indubbning till Mondialen / OMGD äger också rum.

The evening starts with the Inducting Ceremony taking place at the Odd Fellow´s Lodge in the centre of Stockholm. New members are inducted and other promoted. Members will also be inducted to the Ordre Mondial / OMGD. Master of Ceremony will be Tal Gal-Cohen, former Bailli Délégué of Israel and Member of Conseil Magistral.
grand dîner och 60-årsjubileumsmiddag / grand Dîner and 60th anniversary dinner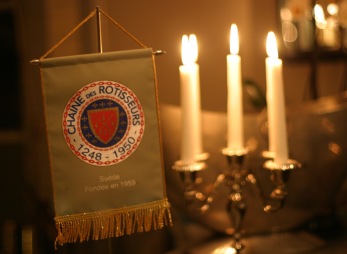 Jubileets högtidsmiddag går av stapeln på Hotell AtSIX och i deras stora festvåning. I rodret håller två av våra tidigare vinnare av Årets Unga Kock - Maître Rôtisseur Andreas Edlund och Chef Rôtisseur Jimmi Eriksson. En fantastisk kväll utlovas.

Our Grand Dîner will be held at the new AtSIX Hotel´s banquet hall. Menu by two former winners of Young Chef Competition - Maître Rôtisseur Andreas Edlund and Chef Rôtisseur Jimmi Eriksson. An outstanding evening is to be expected...


medlemsmöte chaîne sverige


Söndagen inleds i sedvanlig ordning med ett medlemsmöte för alla medlemmar. Information ges om det senaste i Chaîne, saker på gång i Sverige och internationellt, vår organisation mm. Givetvis är det nyttig information för alla medlemmar men särskilt för de som är nya.

avskedslunch på odd fellows / farewell lunch at odd fellows lodge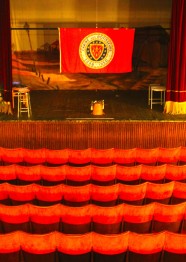 Vårt Grand Chapitre avslutas med en lunch på Odd Fellows Ordenshus. Dags att säga hej då till alla nya och gamla vänner i Chaîne. Efter flera dagars Fine Dining landar vi en klassisk svensk husmanslunch innan vi alla åker hemåt.

A well known venue by now - the Odd Fellows Lodge in Stockholm. Time to say good bye to all new and old Chaîne friends while we finish our Grand Chapitre with a lunch of a somewhat more rustiqe character - in Swedish "Husman".